Clicking on any links herein may earn us a small commission to help support the website. The price to you is the same. Please read "Disclosures & Disclaimers" page.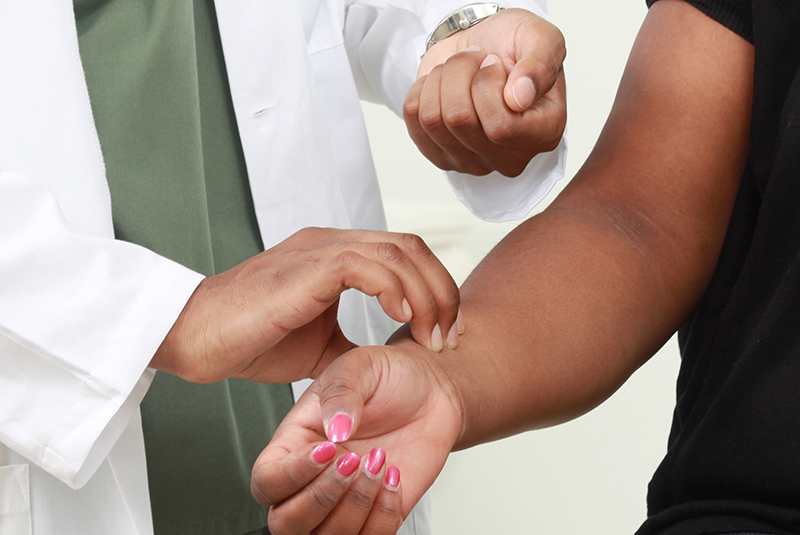 Stress has always been known to affect the human body in more ways than one. These are divided into mental, emotional and physical stress symptoms (also referred to as cognitive, somatic and behavioral).
Mental and behavioral stress symptoms often cover the psychological effects of anxiety or stress on the person who suffers.
Emotional symptoms are those that affect the human emotion or relationship related issues.
Physical stress symptoms are those that affect the body and the different organs of the body.
Physical Symptoms Of Stress
The most dangerous of these is probably the physical symptoms that stressed out people might encounter. Physical symptoms a person acquires from a stressful existence may include any or all of the following:
Backaches
Headaches
Increased pulse and heart beat rate
Shallow breathing and/or shortness of breath
Chest pains
Muscle tension
Lack of sleep or excessive sleep
Dizziness
Nausea and stomach pains
Indigestion
Skin rashes
Sweating or perspiration, or feeling cold
Outbreaks of acne or pimples
Skin outbreaks such as eczema and psoriasis
Muscle stiffness
Muscle tension and frequent colds
Immune system weakened in general
These may seem rather minor to some. However, these physical stress effects may result in a person's demise.
Left unchecked, such effects can cascade into serious illness. Conditions directly linked to stress and/or worry include cancer, high blood pressure, heart disease (including heart attack), and so forth.
Mental And Behavioral Stress Symptoms
Mental and behavioral stress symptoms are also pretty dangerous to a person's psyche and physique if left unattended.
Some of the mental stress symptoms that may then result in physical effects include
Poor judgment
Anxiety
Confusion
Indecisiveness
Memory problems, and
Loss of objectivity
This may then lead to the person eating less or more than is necessary. That can lead to ulcers or obesity or high blood pressure.
Other behavioral effects that mental stress can bring about include the abuse of certain substances like drugs or alcohol. This can be due to lack of objectivity or poor judgment. The substance abuse can then go full circle to result in more poor judgment.
Emotional Symptoms
Emotional stress symptoms can also translate into physical stress effects after they have taken their toll.
Restlessness, irritability, moodiness, agitation, the feeling of loneliness and finally, depression can actually result in emotionally motivated physical health problems.
Ulcers can result when a person is nervous or agitated. Emotional reactions cause increased acid activity. This can lead to ulcers or other digestive problems.
Restlessness or lack of relaxation can also result in headaches. Lack of quality rest and the constant activity of the brain during these bouts of restlessness create the pressure.
Depression can also lead to something more physical, like attempts at taking one's own life.
Triggers For Stress And Anxiety
Recognizing your personal stress symptoms and triggers is key to reducing adverse effects that can create mental, emotional and serious physical medical problems.
Areas that are affected by the ravages of unmanaged stress have different adverse effects on each different area. These adverse stress effects may result in a number of possible scenarios for the person who is suffering from stress.
Theses adverse effects can be emotional problems like depression, panic attacks, paranoia etc. Even something as simple as forgetfulness.
For instance, do you frequently walk into a room to get something and can't remember what it was? Probably too much on your mind!
Physical problems will almost always eventually develop from chronic stress. Consider widespread conditions like
migraines and headaches
backaches,
skin conditions,
heart disease,
cancer
Factors such as sitting too much or chemicals we ingest from food, air or body care products will certainly contribute to these health challenges. How much of the cancer, heart disease, migraines and headaches, or eczema and psoriasis outbreaks do you think are a direct result of chronic stress?
A HUGE percentage!
Studies show that even back problems are often caused or exacerbated by chronic stress conditions. Taking periodic walks serve the multiple purposes of moving your spine and muscles, increasing circulation, and relieving stress!
Each person will have unique stress triggers. Learn to recognize your triggers and the stress symptoms before they manifest into serious mental, emotional or physical problems. Find techniques to help manage and reduce your stress before it's too late.
Programs And Solutions To Manage Mental, Emotional And Physical Stress Symptoms
All these symptoms can add up to a rather dangerous mix if a person does not know how to manage his or her mental, emotional and physical stress symptoms properly. Many programs, such as Panic Miracle or Panic Away, are available at a minimal financial investment.
These programs can work wonders. They guide the stressed-out individual to learn techniques that minimize or eliminate the effects of mental, physical and emotional anxiety or stress.
However, the individual must be willing to invest the personal work to learn how to keep their personal stress triggers at bay.