Clicking on any links herein may earn us a small commission to help support the website. The price to you is the same. Please read "Disclosures & Disclaimers" page.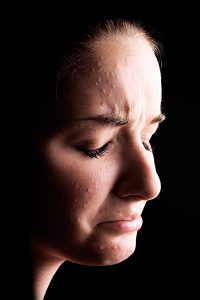 Depression is one of the most common mental health diagnoses in society today. Often depression goes in hand with stress, anxiety and/or panic attacks.
While there may be many underlying causes of depression, unfortunately, the typical medications can have harmful and sometimes devastating side effects. Many people who suffer from a variety of emotional disorders do not like to take these pharmaceutical drugs because of those side effects.
Fortunately, there are alternative therapies for depression that can be used alone or in addition to a drug therapy plan.
Some of the common signs and symptoms of depression include:
Fatigue or insomnia,
Hopelessness,
Suicidal thoughts or ideations,
Crying spells,
Anxiety, and
Social withdrawal or isolation.
Depression can affect someone's work, relationships, self esteem, and daily functioning. Unfortunately mental health diagnoses have a very negative depiction within society and can make it difficult for people to come forward and seek treatment.
However, because of the strain and destruction it can have on one's life, it is important to seek help. It is good to know that there are medications as well as alternative therapies for depression that can be used and are available.
Because depression can be a serious problem even the alternative therapies should be monitored and introduced by a physician or medical professional.
Psychotherapy
The most common of the alternative therapies for depression is most definitely psychotherapy. This gives people a trusting and supportive environment to clear their head as well as discuss the troubles they are having in life that are causing the depression.
It is important to note that sometimes depression can be caused by a chemical imbalance and in that case, medications and blood tests are often the route that is taken to alleviate the distress. However, for those who are experiencing situational depression, psychotherapy is an excellent treatment option.
Through this therapy, people are often able to discover what it is that is causing the depression, heal old wounds, and gain some understanding on how to obtain higher self esteem and self worth.
Low Body Image And Self Esteem
Another one of the most common alternative therapies for depression is exercise and nutrition.
It is quite common for people with depression to have low body image and self esteem. Therefore, with exercise and diet, the body image of someone can be improved. In addition, because social isolation and withdrawal can be a symptom of depression it forces the person out of the house and around other people.
Yoga Or Tai Chi Might Help
Similar to exercise and diet therapy is yoga. Yoga offers not only the element of exercise and socialization, but also offers the therapeutic benefits of meditation. It may be hard for a depressed person to start yoga on their own, but with the help and encouragement of a friend this type of alternative therapy for depression can work wonders to relax, focus and improve outlook. Tai chi may have similar benefits if preferred.
Regardless of the alternative therapies for depression that are available, the most important thing is to seek help. People often hate the side effects of typical medication and therefore may find comfort and improvement under the arms of alternative therapies for depression.